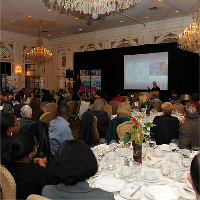 Thursday November 16, 2017
TRADE SHOW AND EDUCATIONAL FORUM FOR TRAVEL AGENTS


Theme: Selling the Caribbean
FOR TRAVEL TRADE ONLY
Time:  5:30 pm – 9:00 pm
Venue: Intercontinental Hotel
Despite the constant changes in the travel distribution system, the Caribbean Tourism Organization has always recognized that travel agents play an important role in the sale of Caribbean vacations. The NY Times, USA Today and Times Magazine and a recent MMGY global study agree that across the board, both demographic and generational groups have increased their use of travel agents to facilitate their travel bookings. It is in the best interest of the Caribbean travel industry to continue to provide these professionals with the tools and information that will keep the Caribbean top of mind when they discuss vacation options with their clients. This is the industry's opportunity to present qualified travel agents with relevant information to equip them to match their discerning clients with their best fit for their  perfect wedding, honeymoon or vacation.
Travel Agents Fill in the form below.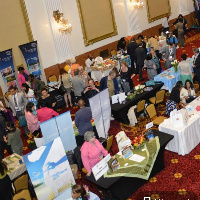 Friday November 17, 2017
CARIBBEAN MEDIA MARKETPLACE AND INTERVIEWS: "Getting Up Close and Personal with Top Journalists"
Time: 10:30 am – 12:00 pm
Venues: Media Marketplace – Foyer & Belfour Room, Intercontinental Hotel;
Media Interviews – Heintzman, Intercontinental Hotel
Where else can suppliers to the Caribbean Tourism Industry have exclusive access to journalists from over 100 media houses, assembled specifically to learn and write about the Caribbean? The Caribbean Media Marketplace attracts journalists from across all media platforms. This event provides CTO member Governments and private sector exhibitors with the opportunity to tell their stories directly to writers from the trade and consumer press. It is an excellent occasion for interviews with both print and electronic media eager to know what's new and different in the Region and with your product.
The media landscape is rapidly changing and so are the tools that journalists use to cover the region. In this fast paced event, newsworthy information from your most appropriate representative can result in coverage over an extended period of time. Be prepared to see some familiar faces, but understand that there will be several new journalists who wish to tell your stories, as well. This is the place to gain that competitive edge.
We are offering booth and tabletop displays on a strict first-come, first-served basis. We are asking all interested suppliers to submit their applications as soon as possible.
MEDIA MARKETPLACE: Doors open to all media including television crew

Time: 10:30am – 12:00pm
Venue: Foyer & Belfour Room
MEDIA INTERVIEWS:
Time: 10:30am – 12:00pm
Venue: Heitzman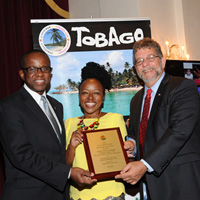 Friday November 17, 2017
CARIBBEAN TOURISM INDUSTRY & MEDIA AWARDS LUNCHEON
"Honoring Industry Leaders and Top Caribbean Stories"
Price: By invitation only, RSVP required
Time: 12:30 pm – 2:00 pm
Venue: Ravel
SPONSORED BY:
Anytime is a good time for the region to show its appreciation to industry professionals for their contribution to the development of our tourism product, but Caribbean Week takes on special meaning when the awards are presented in the major media and Caribbean tourism market, in the presence of peers and top Caribbean tourism officials and executives.
The Caribbean Tourism Industry & Media Awards Luncheon is the occasion at which the Caribbean Tourism Organization recognizes journalists and photographers who have published captivating and influential stories on the region; the allied members for their continued support of the work of the Organization; and retail travel personnel for their sales support of the Caribbean.
More details on Media Awards: http://canada.caribbeanweek.com/media-awards/