Friday November 10, 2017
CARIBBEAN BALL
Price: CAN $175 per ticket; Table of 10 – $1575 Cdn + taxes; All are welcome.
Time: 6pm – 12am
Venue: Doubletree Hilton Toronto Downtown, Mandarin Ballroom
All are welcome! Funds are in support of the CTO Foundation and the Hurricane Relief Fund.
Saturday November 11, 2017
CONSUMER SHOW
Price: Free to attend, all are welcome.
Time: 11:00 am – 6:00 pm
Venue: Improve Canada, 7250 Keele Street, Vaughan, ON
Enjoy the exotic tastes prepared by Caribbean Chefs at a Consumer Show being held at Improve Canada – Canada's newest and largest home improvement mall. There will be themed areas around the mall that will highlight the wide variety of activities & culture offered by travel in the Caribbean.  There will be presentations throughout the day to help select the perfect destination for the perfect wedding, honeymoon or vacation.   https://improvecanada.com/
CONSUMER SHOW FORMAT: TABLETOP
A six-foot table and two chairs will be provided. Exhibitors may bring backdrops that do not exceed 8ft. so as not to obstruct neighboring exhibitors. Each tabletop exhibit includes a maximum of two (2) representatives.
COST: Suppliers: $500.00 Small Hotels only (under 50 rooms): $250.00
Monday November 13, 2017
CTO PRESS CONFERENCE
Time: 9:00 am – 10:00 am
Venue: Doubletree Hilton Toronto Downtown, Mandarin B
The CTO press conference updates the media on developments and decisions taken by CTO during Caribbean Week.
Monday November 13, 2017
CARIBBEAN MEDIA MARKETPLACE AND INTERVIEWS: "Getting Up Close and Personal with Top Journalists"
Time: 10:30 am – 12:30 pm
Venues:
Media Marketplace – Toronto/Victoria Ballroom
Media Interviews – Ottawa Room
Where else can suppliers to the Caribbean Tourism Industry have exclusive access to journalists from over 100 media houses, assembled specifically to learn and write about the Caribbean? The Caribbean Media Marketplace attracts journalists from across all media platforms. This event provides CTO member Governments and private sector exhibitors with the opportunity to tell their stories directly to writers from the trade and consumer press. It is an excellent occasion for interviews with both print and electronic media eager to know what's new and different in the Region and with your product.
The media landscape is rapidly changing and so are the tools that journalists use to cover the region. In this fast paced event, newsworthy information from your most appropriate representative can result in coverage over an extended period of time. Be prepared to see some familiar faces, but understand that there will be several new journalists who wish to tell your stories, as well. This is the place to gain that competitive edge.
We are offering booth and tabletop displays on a strict first-come, first-served basis. We are asking all interested suppliers to submit their applications as soon as possible.
MEDIA MARKETPLACE: Doors open to all media including television crew
Time: 10:30 am – 12:30 pm
Venue: Toronto/Victoria Ballroom
MEDIA INTERVIEWS
Time: 10:30 am – 12:30 pm
Venue: Ottawa Room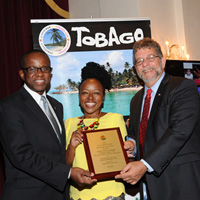 Monday November 13, 2017
CARIBBEAN TOURISM INDUSTRY & MEDIA AWARDS LUNCHEON: "Honoring Industry Leaders and Top Caribbean Stories"
Price: By invitation only, RSVP required
Time: 1:00 pm – 3:00 pm
Venue: Mandarin A
SPONSORED BY: Saint Lucia Authority

Anytime is a good time for the region to show its appreciation to industry professionals for their contribution to the development of our tourism product, but Caribbean Week takes on special meaning when the awards are presented in the major media and Caribbean tourism market, in the presence of peers and top Caribbean tourism officials and executives.
The Caribbean Tourism Industry & Media Awards Luncheon is the occasion at which the Caribbean Tourism Organization recognizes journalists and photographers who have published captivating and influential stories on the region; the allied members for their continued support of the work of the Organization; and retail travel personnel for their sales support of the Caribbean.
More details on Media Awards: http://canada.caribbeanweek.com/media-awards/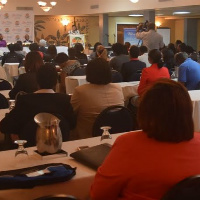 Tuesday November 14, 2017
TRADE SHOW & EDUCATIONAL FORUM FOR TRAVEL AGENTS
 "Selling the Romantic Caribbean"
"Adventure Travel in the Caribbean"

Price: Open to retail travel agents, RSVP required
Time:
8:00 am – 8:45 am – Registration & Breakfast
9:00 am – 12:00 pm – Agent Educational Seminars
Venue: Improve Canada
Everything you have heard about romance and the Caribbean is true and everything you have heard about the Caribbean being the premier wedding and honeymoon resort destination is most certainly true. However, in a constantly changing environment in which leading marketers and retailers in every category find their biggest challenge is reaching the new consumer and increasing sales, how do we get even more of our perfect customers – engaged couples and newlyweds – to wed or honeymoon in the region?
The answer lies in developing long-term and meaningful relationships with the people who drive business to the Caribbean – wedding planners and travel agents – the experts say. How do we engage you effectively? Welcome to Selling the Romantic Caribbean Trade Show and Educational Forum where suppliers will share their tips and secret, and destination representatives will boast about what is special about their product – all to help you develop effective business strategies to increase sales
Travel Agents please fill in the form below: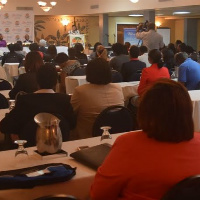 Tuesday November 14, 2017
TOURISM INDUSTRY PANEL DISCUSSION
Theme: To The Collaborators Go the Spoils
Price: By invitation only
Time:  12:30 pm – 3:30 pm
(Lunch is included: 12:30 pm – 1:15 pm)
Venue: Improve Canada, 2nd Floor
Innovation and collaboration are the keys to thriving businesses. In times of uncertainly and rapid technological advances, it is important that the tourism industry's supplier and retail professionals share ideas and work together to unlock the potential for exponential growth.  This session will provide information that highlights the results of greater collaboration between critical segments of the industry, changes the way the industry does business and help national tourist offices with limited budgets realize the advantages of operating in an environment where collaboration is at the heart of how they function.